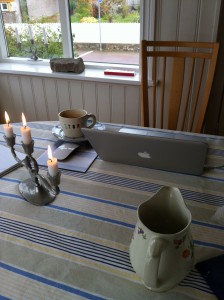 The rain beats against the windows and I sit with candles and a cup of coffee at the kitchen table that stands on one of our glass-enclosed porches. From here you can see across the strait to the island of Marstrand. The church, a piece of the wharf, Grand Hotels and Carlsten Fortress. Reminiscent of Metta Fock, they make the right times, and although the book is released Mercurium long so do not Metta let go of me. It feels so. She will always have a special place in my heart, thanks to that we found living relatives that also means a lot to me. Cecilia and her family. By no means knew her grandmother's grandmother's grandmother or her life story. But who took her to him and taken care of all the material that we picked out of the archives and all possible - and impossible places. And the other day I was contacted by a Magnus Ridder Bjelke, descendant Mettas Uncle Ake. (Metta sets off to his uncle in Dalsland before the first Investigation begins.) At Uncle Ake's side of the family has preserved Mettas memory. And it felt great to be able to connect with Cecilia Magnus!
Dick Harrison, a professor of history at Lund University, saw the work that lay behind the book and declared that "It is without doubt one of the best historical novels I've read," and pointed out that his wife Catherine was of the same opinion. (See her blog: http://katarinaharrisonlindbergh.wordpress.com/2012/08/19/ann-rosman/
This year's Book Fair was amazing - thank you to everyone who showed up in the Forma Books booth. I was completely overwhelmed! Queues and chaos. It was just I thought it was true. And all the happy shouts on this page or via Facebook and Twitter. If you only knew what I appreciate it!
After four books, one should well know how to do, you can imagine. But perhaps it was part of the problem. The work of four books in four years came up with me and for a few weeks, I felt totally paralyzed even though I already had an idea for the next book. Eventually, I got to call my publisher and say that I need more time to the next book. I want to have time to explore the old house in Marstrand, with flashlight in hand crouch and walk down the drafty basement with rammed earth floor. I love that! Get the feeling that you step into another world and really I should not be so surprised if the horse drawn träkärror passed on the quay when I came up from the basement again. Women dressed in long dress and with umbrella in hand ...
I want to talk to my oldest friend - Marstrand Local Society old chairman Stig - when he talks. And then I along with genealogists Bridget find those little details, those people that convey their part of the story to me. The people in the documents, beyond the brittle paper. For oh what it's fantastic when they step forward. That's the story I want to tell you further in my turn. I'll just get the pieces in place first ...